In this blog article, you will learn how Gen Z sees, thinks and does things differently from Baby Boomers, Gen X and Gen Y and how you can leverage Gen Z-related insights to craft marketing strategies that cater to their needs.
According to Kasasa's definition of Gen Z, they are the newest generation born between 1997 and 2012/15. They are currently between 6 and 24 years old. In Malaysia, they make up 26% of the population. 
Here are some interesting insights from Nielsen Malaysia  to give you some basic ideas on Gen Z.
They are digital natives that grew up with the internet.
Gen Z aged between 18-24 has an internet penetration rate of 98%.
The oldest Gen Z have stepped into the society and acquired spending power.


If you are also interested to know the age breakdown of Baby Boomers, Gen X and Gen Y, here is it.
Baby Boomers: Born between 1946 and 1964. They are currently between 57 and 75 years old.
Gen X: Born between 1965 and 1979/80. They are currently between 41 and 56 years old.
Gen Y: Born between 1981 and 1994/96. They are currently between 25 and 40 years old.
Why Do You Need to Prepare Gen Z Marketing Strategies Differently?
What do you think of when you hear the word "Gen Z"?
The little brats in town?
The young but tech-savvy people?
The youngsters who speak internet slang and are always ahead of the latest social media trends?
There is no denying that the digitalized world has shaped Gen Z differently.
They have certain behaviours that set themselves apart from the other generations.
According to The Asean Post, Gen Z are fully aware of the importance of self-love and they are never shy to express themselves to a wider audience.
Besides, they are also passionate about global issues ranging from equality to environmental pollution, and they expect their favourite brands and businesses to do the same too.
The world will slowly be taken over by Gen Z and they are going to shape how brands market to them. Hence, it has never been more important to understand their insights and behaviours in order to reach them and stay top of their mind.
Before you start welcoming them as your new target audience, you need to equip yourself with the right Gen Z marketing strategies.
5 Proven Gen Z Marketing Strategies
Make your business more socially conscious
If your business has never done cause marketing, you should start embracing it soon.
Gen Z is no stranger to expressing themselves. They will also not hesitate when it comes to supporting or boycotting brands.
In fact, 77% of Gen Z have taken actions to support a cause they believe in, and 23% have boycotted a brand that they disagree with.
Let's take a look at a local example.
Following the decline of the COVID-19 cases during February 2021, the government allowed the reopening of many economic sectors except the cinemas.
Golden Screen Cinemas (GSC), the largest Malaysian cinema company started #ReopenCinemas hashtag as a plea to the government to save the cinema industry.
This post has garnered 12k reactions, 835 comments and 2.2k shares, proving that people do show support to businesses that speak out the right opinions.
Customize your marketing strategies
Gen Z wants the messages targeted to them to be personalized. This is basically telling them that you know them very well and your business can provide the right solution to them.
The New Heartland 2020 Generational Study discovered an interesting trend: Brands that understand Gen Z's values and lifestyle stand a better chance of turning them into customers.
Take Innisfree Malaysia as an example.
Innisfree's Green Tea Seed Serum 4.0 is a skincare product that caters to all skincare needs including dry skin, oily skin and sensitive skin.
Instead of combining every benefit under one post, it focused on one single need and its solution in every post so that it could offer a tailored experience to each audience.
To navigate Gen Z's needs and wants accurately, it is unskippable to conduct a lot of research on insights and what's trending among Gen Z.
Gen Zs are much more impatient than the rest of the generations. This can be observed on a study done by Businesswire :
Gen Z prefers fast and responsive customer service. They are 60% more likely to hang up if the phone is not picked up within 45 seconds.
30% are more likely to express anger, such as cursing over the phone at a brand if their needs are not being fulfilled.

Gaining the attention of Gen Z is one thing. To make them trust and loyal to your brand, you need to make sure they receive the best customer service from the top to the bottom of the marketing funnel.
Make sure your website is functioning 24/7 especially on mobile as most purchases take place on mobile websites. Do not forget to reexamine your response rate on social media. Chatbots are great tools to help you reply to customer inquiries instantly. However, do not eliminate human conversation completely. Some inquiries still require a human to answer.
With a shorter attention span, customer service is definitely one of the main factors that influence the loyalty of Gen Z. Remember we mentioned that Gen Z loves to express themselves? You would never want them to spread their bad experiences dealing with your brand!
Be visually creative and interactive
Another distinguishing characteristic of Gen Z is their preference for bite-sized visual content over long-form content.
This is why more brands are jumping onto visual-oriented platforms such as Stories, IGTV, Reels and TikTok in order to broaden their brand reach among Gen Z.
Netflix Malaysia knows exactly what Gen Z likes to watch. Instead of just doing ordinally static visuals, it leveraged the expandable format of IGTV for bite-sized TV series to entertain its audience and keep them engaged with the brand.
Have you noticed one more thing? Netflix Malaysia has never promoted its service and packages on social media. The key to winning more engagement on social media is to be more interactive and less salesy.
Let your content speak on behalf of your brand. It is all about the positive experience your audience gains from your brand. If your content is meaningful and brings value to your audience, they will eventually stick with your brand.
Approach them in an authentic way
Is your brand authentic enough to win the heart of Gen Z?
Being a tech-savvy generation, it is logical that they are bombarded with many aggressive, exaggerating ads every day. If you want your brand to be able to touch their hearts, tap into their culture and communicate with them in a personal, relatable way.
Here are a few ways to increase your brand's authenticity.
Feature more user-generated content.

They need to see some real humans representing your brand in order to build an emotional connection with your brand.



Establish a community around your brand

A community not only gives them a sense of belonging but also enables them to engage with your brand and other followers at a personal level.



Collaborate with the right influencers.

44% of Gen Z have made a purchase decision after seeing a recommendation from an influencer they follow.


Julie's Biscuits has gained massive positive responses through its user-generated campaign called Look-Up Challenge.
Over 500 Instagram users participated in the challenge by posting their "look-up" photos with a hashtag "#JuliesLookup".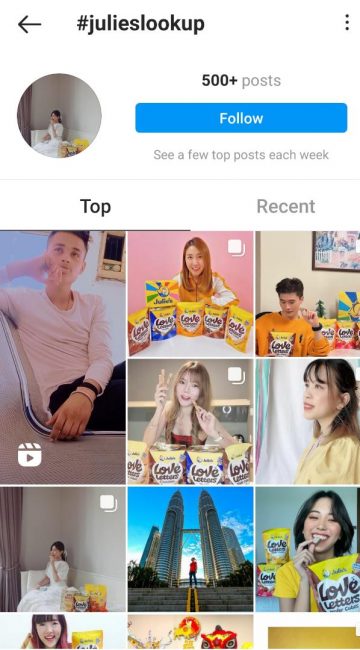 Through this campaign, Julie's Biscuits not only has increased its reach but also established meaningful connection with its audience.
It is undoubtedly challenging to navigate Gen Z's interests and behaviours especially in this digital landscape full of changes. However, if you are willing to put the effort into understanding them, they are going to be valuable customers for your brand.
Think you might need help to develop effective Gen Z marketing strategies? Reach out to us today for our social media management  and social media marketing  services.