In this blog article, you will learn one of the most important aspects of TikTok marketing – how to
increase the Engagement and the Virality of your TikTok content by studying 5 Malaysia brands
and their TikTok Engagement Strategies!
Surely you have seen people flooding your social media feed with TikTok dance and challenge
videos. From the creative-based "Any Song" Dance Challenge to "Everything Sucks" Outfit
Challenge to the energy-consuming Photo Crop Challenge as well as Push Up Challenge,
TikTok has definitely redefined how we use social media in many ways.
The video-based social media platform allows creators to create 15-second, 60-second and
3-minute videos to showcase their creativity and personality. Equipped with features from basic
editing tools like flip, speed, filter and timer to the advanced effects like green screen effect,
World AR effect and music effect, TikTok provides a simple, hassle-free way for people to create
high quality, creative and entertaining content in just a few minutes.
Besides the creators, the viewers also get to immerse themselves in the endless scrolls of
entertainment and engage with their favourite creators by liking, commenting on and sharing
their content.
Why should TikTok be part of your social media marketing?
If your brand's target audience are senior citizens, then leaving TikTok out of your social media
marketing will not be a big issue. However, if your target audience are Gen Y and Millennials,
you should definitely hop onto TikTok really soon.
Here are some statistics to get you started:
These facts prove to us that TikTok has a large pool of audience, both locally and globally, who
are active on TikTok. The majority of the users on TikTok are among Millennials (25-40 years old) and Gen Z (6 – 24 years old), making it one of the best social media platforms to target the
young generation and personalize content that caters to them.
Besides the huge user base, TikTok's highly personalized recommendation system also makes
it easier for you to reach the right audience who show interest in your content.
There are 3 things you can do: Have a consistent posting schedule, ensure the quality of your
content and constantly experiment with TikTok's latest features and tools. TikTok's algorithm is
always changing, growing and learning from the users' behaviours. When you start to gain more
viewers, TikTok will leverage the power of its algorithm to reach a wider audience for you.
Learn TikTok Content Ideas from 5 Malaysia Brands & Their TikTok Engagement Strategies
Here, we have compiled 5 established brands in Malaysia and their TikTok content to give you
some inspiration for your TikTok engagement strategy. Let's dive in deeper!
McDonald's Malaysia is always known for its brilliant trend-riding content on Facebook as well
as cute illustration work on Instagram, but it achieved significant success too by tapping into
what the young generation usually do on TikTok.
#McDaebakChallenge Contest
McDonald's #BigMacTiktok Contest, #RasaMcCafe Contest and #McDaebakChallenge Contest have one thing in common: These campaigns brought out the entertainers inside the young generation.
These contests required them to show their creative dances and movements with McDonald's foods. To reach a wider audience, McDonald's Malaysia invited some of the popular local influencers as the pioneers to build hype around their followers.
This strategy proved to be a success as #BigMacTiktok Contest gained 16.2M views,
#RasaMcCafe Contest gained 14.4M views and #McDaebakChallenge Contest gained 14.8M
views.
Shopee did a good example by showing us how memes can also be adapted to video format. They share a lot of meme videos on TikTok and they are absolutely addictive and entertaining to watch. Each of the meme videos garnered around 100 Likes.
Furthermore, Shopee Malaysia has a regular #MYShopeeCheck series on TikTok; which they
share useful products on Shopee and test them through the first-person point of view. This is
definitely a smart strategy as TikTok users who watch the series will find the products interesting
and check them out on Shopee's website.
When you check out the series, don't forget to pay attention to the addictive "Shopee Check!"
jingle in the beginning.
With 50.5M views on TikTok, #MYShopeeCheck is indeed a popular series which the audience enjoys watching.
Hard to imagine a healthcare brand on TikTok? What Colgate Malaysia does on TikTok will wow
you.
Colgate Malaysia showed us how it can be more than just a "boring" oral care brand by having animated video series as the main direction of their TikTok content.
Upon tapping into its TikTok account, you will be greeted by its chubby little tooth characters.
These animated characters give off a refreshing look and feel to the brand. Leveraging their
cuteness to spread oral health knowledge definitely makes it more vibrant and memorable.
Besides, Colgate Malaysia has an interesting campaign called #LiveSustainablyWithColgate
with the purpose to promote a sustainable lifestyle by utilizing Colgate products.
The benefit of showing behind-the-scenes of your brand is that you allow your audience to peek
into your company culture and get a glimpse of a more real, authentic, personalized side of your team.
This enables your audience to see your brand's human side and build trust with your brand. With stronger trust, you are able to engage with them better as well as persuading them to purchase your products or services.
Says, the local news and media company reveals the fun side of its team members by sharing
various challenge videos and behind-the-scenes on TikTok.
Their TikTok content is simple, entertaining and relatable, which is why it is not surprising that
they have 11.5M views for their videos.
TikTok is a platform where people learn quick tips and get inspiration for their daily lives.
The mobile service provider understands this and presents the potential of online learning
through its mobile plan by sharing inspirational and valuable videos with its audience.
Both #SeminitResipi Campaign and #DigiLetsInspire Campaign share videos that provide
informative content to the audience while featuring Digi as the reason that makes all learning opportunities possible.
#SeminitResipi Campaign successfully garnered 453.6K views while #DigiLetsInspire
Campaign gained 2.2M views. Tips and inspirational content might sound easy and
common, however Digi has proved to us that it is the most classic method that works the
best.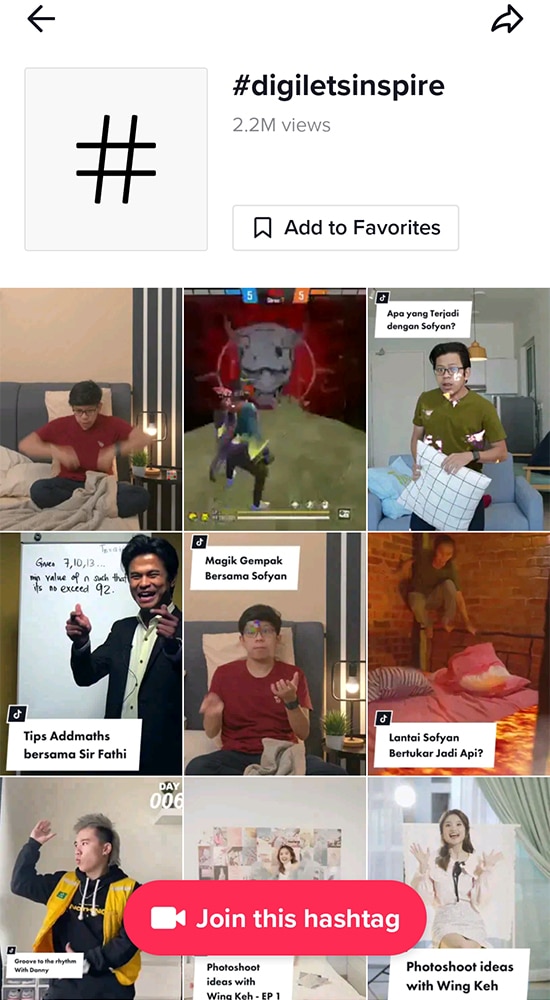 TikTok has a totally different audience base compared to Facebook and Instagram. Hence,
it is essential to plan a different strategy for your brand's TikTok content in order to stand out
from the crowd. There is no shortcut to achieving high Reach and Engagement. The only secret is to be creative and constantly experiment with new trends on TikTok.
If you plan to venture into TikTok but don't know how to start, reach out to us to learn more about our Social Media Management service and Social Media Marketing service.